xili-dictionary is a multilingual dictionary storable in taxonomy and terms to create and translate .po files or .mo files and more…
Description

logo xili-dictionary
xili-dictionary is a plugin (compatible with xili-language) to build a multilingual dictionary saved in the taxonomy tables of WordPress. With this dictionary, collecting terms from categories (title, description), from current theme – international terms with _e() or __() functions – , it is possible to create and update .mo file in the current theme folder. xili-dictionary is full compatible with xili-language plugin and xili-tidy-tags plugin.
New !
NEW 0.9.9
– some fixes, better log display when importing from current theme's files (beta)
– tested on WP 2.9-rare version
0.9.8
Verified on official and recent WP 2.8 version
0.9.7.2
grouping of terms by language now possible, – better import .po – enrich terms more possible (same terms with/without html tags).
THIS VERSION 0.9.x IS A BETA VERSION (running on our sites and elsewhere) – WE NEED MORE FEEDBACK even if the first from world are good – coded as OOP and new admin UI WP 2.7 features (meta_box, js, screen options,…)
Some features (importing themes words to fill msgid list) are not totally stable (if coding is crazy – too spacing !)…
Installation
Upload the folder containing xili-dictionary.php and language files to the /wp-content/plugins/ directory,
Verify that your theme is international compatible – translatable terms like _e('the term','mytheme') and no text hardcoded –
active and visit the dictionary page in tools menu
F.A.Q.
Is the term msgid may contain words enriched by html tags ?
Yes, since version 0.9.7.
a 

<

strong

>

good

</

strong

>

 word
can be translated by
un mot 

<

strong

>

exact

</

strong

>
Where can I see websites using this plugin ?
dev.xiligroup.com here and www.xiliphone.mobi here also usable with mobile as iPhone.
What is the difference with msgid and msgtr in .po file ?
The msgid line is equal to the term or sentence hardcoded in the theme functions like _e() or __(). msgstr is the translation in the target language : by instance fr_FR.po for a french dictionary. (the compiled file is fr_FR.mo saved in the theme folder. The root language is in WordPress currently en_US, but with xili-dictionary, it is possible to create a en_US.mo containing the only few terms that you want to adapt.
Is xili-dictionary usable without xili-language to edit .po or .mo file ?
With certain conditions, the language must in the default list and if the language files are not in the root of the current theme, you must add this line in functions.php file of this theme (normally set before xili-language is installed) :
define

(

'THEME_LANGS_FOLDER'

,

'/nameoflangfolder'

)

;

 

// in Fusion: /lang
What about WP 2.8 ?
Today works only with .mo or .po with simple twin msgid msgstr couple of lines and themes with functions like _e() or __() for localization.
Screenshots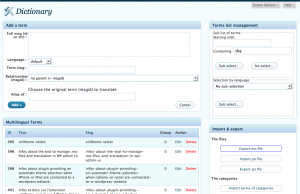 xili-dictionary: Admin UI
More infos
They talk about
Here some links where users talk about xili-dictionary plugin :
in WordPress Forum
This first beta releases are for theme's creator or designer.
See also the WordPress plugins forum.
Download